Login
Log in if you have an account
Dont have an account? Register
Best Sandals for Narrow Feet (2020) - How to Fit Kid's Shoes
24 May 2020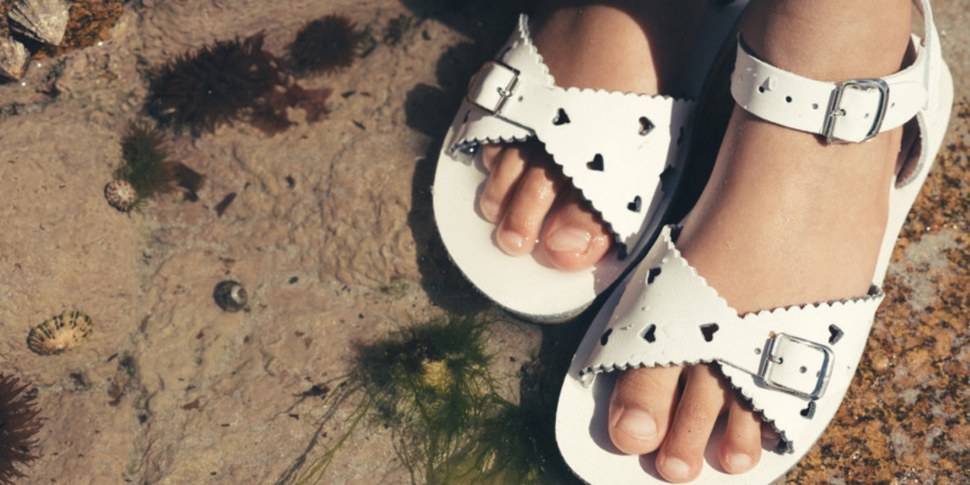 Attention all parents of kiddos with narrow feet… this guide is for you!
Believe it or not, properly fitting shoes for children with narrow feet can be much more challenging than their wide-footed counterparts. Children with narrow feet need sandals that match the shape of their feet in order to be comfortable, prevent blisters, and ensure that their sandals stay on their feet while they play all summer long. This guide will go through a few tips for finding narrow sandals, and then provide you with a list of the top summer sandals for kids with narrow feet this season. Look no further! You have found the holy grail list of narrow kids sandals.
Anatomy of Narrow Footwear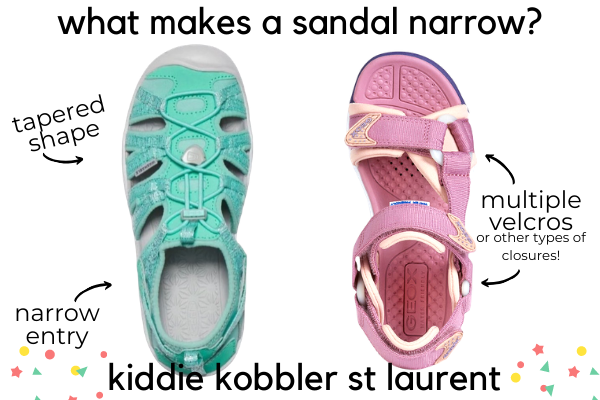 The last of a shoe (the shape of the sole) is not the only factor that makes a shoe narrow. Narrow sandals (and shoes) often have adjustment pieces in multiple different parts of the shoe. For example, the Keen Moxie sandal on the left has an elastic bungee-closure which allows your child to tighten the sandal from their ankle all the way to their toes. The Geox Borealis sandal on the right has three separate Velcro straps to make sure that the sandal is properly secured to your child's foot. Both sandals have a narrow entry at the heel to prevent slipping for narrow ankles, and both sandals have a tapered shape (rather than round).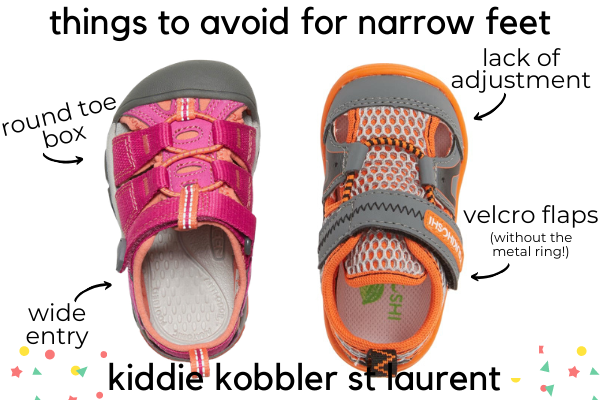 Since we talked a bit about what makes a sandal narrow, it is important to mention what makes a sandal wide. The Keen Newport on the left has a wide ankle which would not accommodate a narrow heel. When a shoe is too wide on a child's ankle it can lead to ankle blisters from their feet slipping at the back. Both sandals also have a very wide, round shape with no option to tighten the sandal at any point other than at the ankle. The Tsukihoshi Ibiza sandal on the left also has a Velcro-flap. For narrow feet it is important to always look for footwear where the Velcro passes through a metal or plastic D-ring. This ring allows the Velcro to be pulled tightly for a snug fit. The Velcro-flap makes the shoes easier for kids to put on themselves but doesn't allow your child to adjust the ankle to accommodate a narrow heel.
Best Narrow Sandals for Toddler Sizes
It is particularly difficult to find narrow-fitting footwear in toddler sizes. Many models of shoes and sandals for toddlers are designed to be wide to accommodate chunky baby feet. This is especially true of shoe brands made for grocery stores or clothing stores. A narrow toddler sandal should provide a snug fit around the ankle and shouldn't gape around the forefront. We have included below three of our favourite narrow sandals for toddlers this season!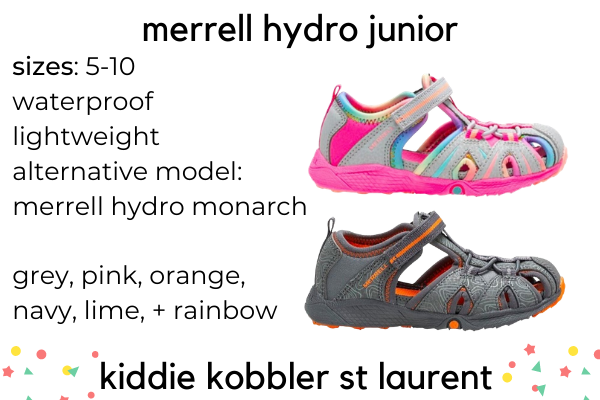 Our first pick is a clear bestseller at our store. The Merrell Hydro Junior is lightweight, flexible, and a good choice for narrow feet. This summer we carry the sandal in grey/multi (rainbow), grey/orange, and lime/grey. Each sandal is made with a shallow-fit in mind and is very adjustable at the ankle with a Velcro that runs through a D-ring. These sandals do fit ½ size big, so we suggest sizing down to get the perfect fit, especially for narrow feet!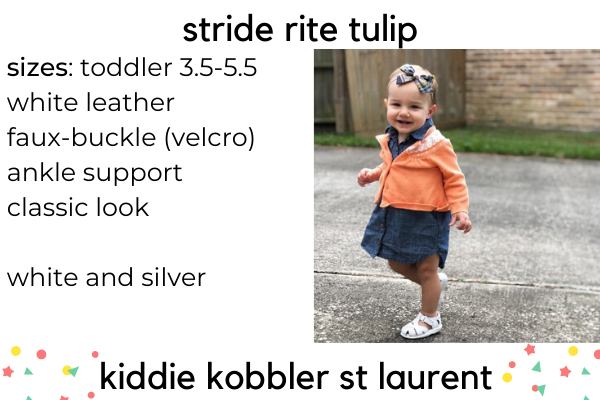 Our second choice is the Stride Rite Tulip. This white leather Stride Rite sandal is sweet, timeless and supportive. The heel is closed-in and built to support your new walker like a first-walking shoe. Stride Rite has designed this sandal to fit narrow feet (as well as width options for wider-footed kiddos too).
Stride Rite makes a similar brown version of this sandal called Stride Rite Harper which is also an incredible choice for your narrow toddler.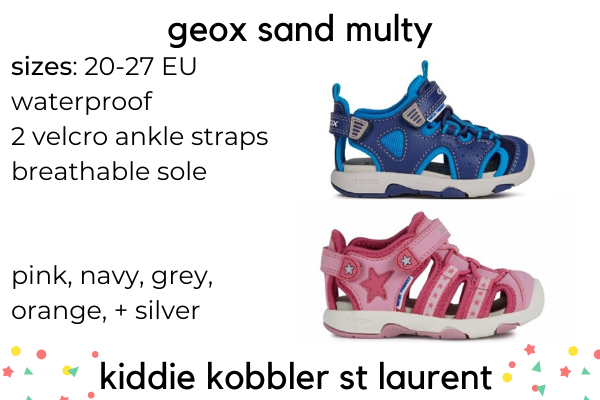 Last but not least for toddlers is the Geox Sandal Multy line. These sandals are not quite as narrow as the Stride Rite Tulip or Merrell Hydro Junior in the forefront. However, they make up for this with having one of the most narrow ankle closures on the market. The Geox Sandal Multy sandals can be tightened with two velcro straps at the heel which provides a very secure hold on the ankle. These sandals are breathable, waterproof and extremely durable. They come in many colours and patterns so they will match with any wardrobe.
Best Narrow Sandals for Toddlers and Bigger Kids
The Saltwater Sandals collection is a versatile and classic choice for your narrow-footed little. Ranging from infant sizes to women's, there is a sandal for every kid (and momma)! Not all Saltwater Sandals are equally narrow, but the Sweetheart, Surfer, and Swimmer models are created specifically for narrow feet. The Surfer and Sweetheart models are adjustable at the ankle and front of the foot for a personalized fit, while the Swimmer adjusts at the ankle with a narrow leather crisscross detailing at the forefoot. We suggest that narrow feet avoid the Saltwater Original model since it is on a wider sole, and is not adjustable at the toes.
Looking for a closed-toe leather option? The Saltwater Shark is another great narrow choice in the little sizes! If you are a narrow-footed lady (or your big kid is in ladies sizes), stick with the or Saltwater Classic model because they are adjustable at the front of the foot, as well as the heel. 
Best Narrow Sandals for Big Kids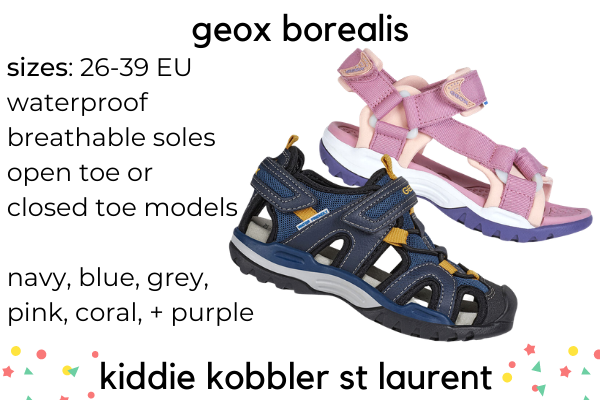 The Geox Borealis collection is the perfect choice for your active big kids. Their open-toe sandals are the narrowest option we've ever found! The sole of this sandal was created specifically for narrow feet and both the open and closed models are built with multiple adjustment points in mind. As with all Geox shoes, these sandals are breathable, durable and fashion-forward. The open-toe model comes in blue/lime, navy/fuchsia, fuchsia/salmon, and fuchsia/sky. The closed-toe model comes in navy/yellow, fuchsia/sky, and navy/fuchsia.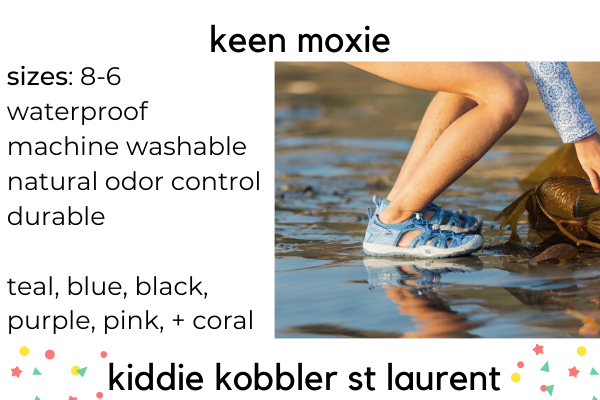 The Keen Moxie is the narrowest closed-toe sandal that we carry. It is lightweight, flexible, waterproof, machine-washable, and fits even the narrowest of feet. In sizes 8-13 the sandal has a velcro closure as well as a bungee elastic down the entire sandal. In sizes 1-6 there is no velcro strap, but a bungee elastic to tighten the shoe all the way down the foot. When Keen released this sandal we knew we had found something absolutely incredible. This season's colour options include teal, light blue, blue, black, purple, pink, and coral. We sell out of these quickly - and for good reason. Please note that these sandals do tend to run a little bit long, so if you are between sizes we suggest trying the smaller size first.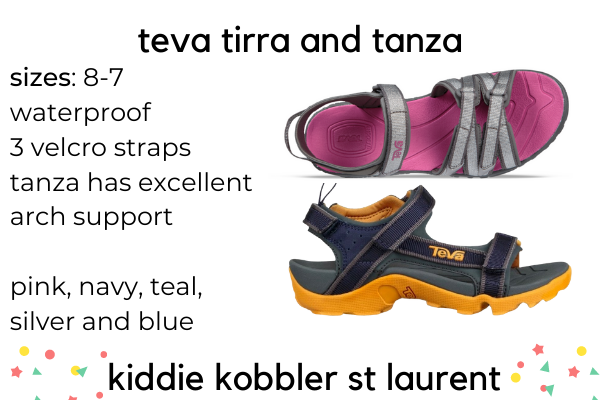 Last but not least, the Teva Tirra and Teva Tanza sandals have been long-time favourites for our customers over the years. These sandals are a great choice for medium to narrow-foot children. They are not quite as narrow as the Geox Borealis or Keen Moxie, but both feature three adjustable velcro straps to accommodate multiple shapes of feet. This is a great feature if you are looking to pass the sandals down between your narrow-feet kiddos to your medium-width littles. These sandals are built for the outdoors and are a loved favourite around our store. The more feminine Tirra model is available in silver/pink, multiple shades of teal, and purple. The more masculine Tanza model is currently available in navy/yellow, and navy.
PS we also carry the narrow Teva Tirra for women in teal, black/white, black, and pink for all of you narrow-foot Mommas!
As always, our fitting experts are always available to give you personalized sizing advice. If you would like help choosing shoes for your child with a narrow foot send us an email with their sizing information and we are happy to point you in the right direction.
© 2020 Kiddie Kobbler St Laurent - All content on our blog cannot be copied or reproduced without our consent. Please contact us for more information.