Login
Log in if you have an account
Dont have an account? Register
How to Size Your Child's Winter Boots to Fit All Season Long - Online Shopping Guide
08 Sep 2021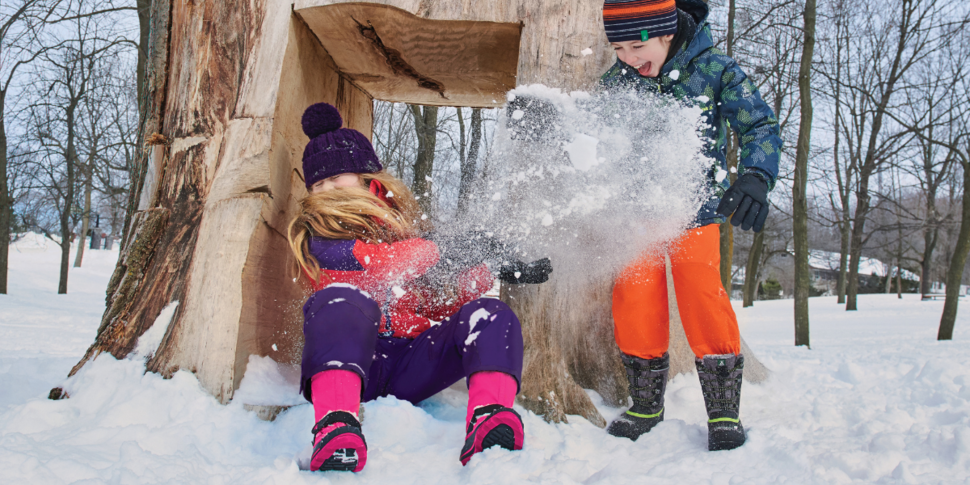 It's that time again... before too long we have to worry about SNOW!
Summer is over and it is time to start preparing for winter. The nights are getting chilly and the leaves have started to fall. Unfortunately (unless you are a snow lover), winter is on the horizon. We know - it is terrible. However, we have some tips so that you can shop early and enjoy the crisp fall days knowing that you are ready for the snow.
This blog post will teach you how to size your child for winter boots from home so that they fit ALL winter long. We have been following these steps every year for the thousands of children who come to our store to buy winter boots. We are so sure about this method that we even guarantee that our size suggestions in-store will last the entire winter or we will replace them (ages 2+). How is that for confidence?!
If you have any further questions about sizing, or would like our opinion on which size to order of a specific product, we are more than happy to help. Just send us an email with your child's age, foot measurement (cm or inches), and what you are looking for. For more information on getting an accurate measurement of your child's foot, check out our blog post dedicated to sizing from home. 
Step 1: Find out what size your child's foot measures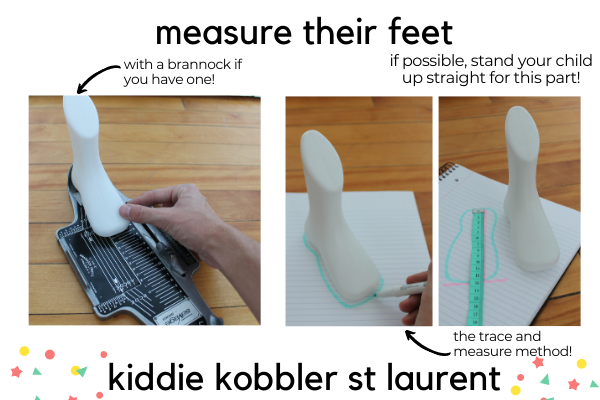 This is without a doubt our most frequently asked question. "How do I measure my child's feet from home!?". For the completely in-depth answer, you can refer back to our blog post dedicated to sizing your child from home. The short answer is: use a ruler (or a Brannock)! We assume that most families do not have a Brannock lying around their house. However, we do have a printable Brannock by Stride Rite which you can use. Alternatively, stand your child up on a piece of paper and trace their foot with a pen/pencil. Then you can measure the length of their foot in cm or inches using a ruler or tape measurer. You can compare these measurements to this sizing chart to find out their size.
Expert tip: It is really common for their foot measurement to be smaller than the size of their current running shoes or rain boots. This means that they still have room to grow! Now that you have their measurement we promise you that this was the hardest part. If you need any assistance along the way with getting their measurements please send us an email. We are happy to do as much of this step as we possibly can for you.
Step 2: Accept that you will likely have to go up 2 sizes from what your child measures
We know! Two full sizes up sounds insane. But hear us out! In Canada, your child's winter boots have to fit them form October to March. That is 6 months of growth room to account for! In addition, tight boots are cold boots. Your little one's foot will stay warmer when the boots are a little bit roomier because this allows air to circulate around the foot. You would also like space for a thicker wool sock for extra cool days. If you prefer boots to fit closer to size and don't mind replacing them if your child grows, please go up one size from measurement size. Sticking with measurement size for winter boots will leave you with cold feet and scrunched toes. One size will provide room for a sock and air circulation room.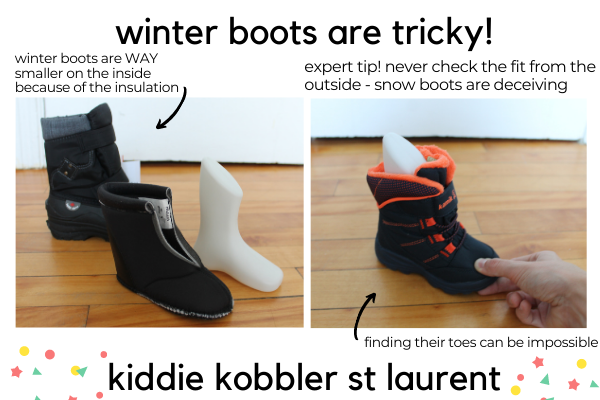 The winter boot on the left is the Hichaud Botte (famous around here for being our warmest winter boot at -50C, made in Canada, and easy to put on). The winter boot on the right is the Kamik Stance (our favourite super lightweight first-walker winter boot, rated to -30C). 

Since winter boots are so insulated they often seem much larger from the outside than the inside. We will get into how to properly check for room to grow in the two sections below. But just by removing the liner or insole from your child's winter boots, you will see how misleading the outside of the boot is size-wise. This is why we suggest never holding your child's foot up to the outside of the boot to gauge sizing. This is inaccurate and will lead to too-small winter boots.
There are a few exceptions to the 2-size rule for winter boots. But we have tried to mark these on each product on our website using our handy "fit tips". So if there isn't a special fitting instruction, it is likely fine to go up 2 sizes. But what if your child measures a half-size? Go up 1.5 sizes (most winter boots don't come in half sizes). If you have a very large, fast-growing child you can always give us a call or send us an email to double-check this recommendation, because in some cases, 2.5 sizes may be safer for awesome, tall toddlers.
It is not uncommon for your child's footwear sizing to look like this for their different shoes this season: 
Foot measures a size 8. Running shoes at home that fit well between size 8.5 and 9. Winter boots in a size 10.
Step 3: Check the fit - boots with felt/wool liners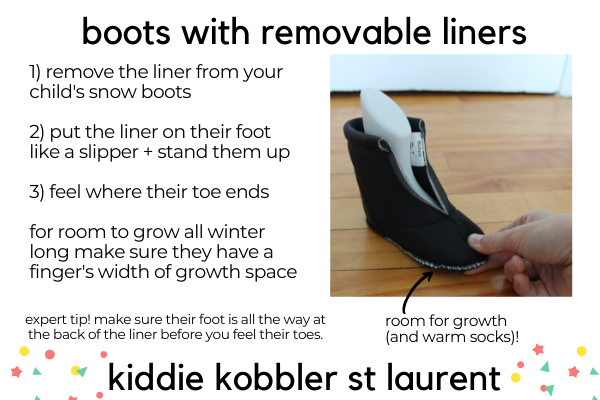 Some of our warmest winter boots have removable liners including most Kamik, Acton, Hichaud, and Sorel. For these brands you can take the liner out of your child's boot to see how the boot actually fits on their foot (from the inside out)! Put the liner on your child's foot like a slipper and make sure they stand up tall. Younger children have a habit of really liking to push their foot forward during this process so just make sure that you try and put their heel as far to the back of the liner as possible. You can now see exactly how much room your child has to grow at the end of their toes.
To last the season look for about a fingers-width at the end of the toes. A little bit more is okay as long as your child doesn't feel like the boots are too big. Anything less than that may lead your child to outgrow their snow boots before the season is over. The liner can also tell you a little bit about the width of the boot. If your child struggles to get the liner on and their foot is pushing on the outside seems, the boot may be too narrow. Tons of extra material? The boot may be too wide. Your child will likely complain of the boot being too tight/loose in these scenarios. To fix this you will likely have to switch models or brands, not size up/down.
Step 3: Check the fit - "one-piece" winter boots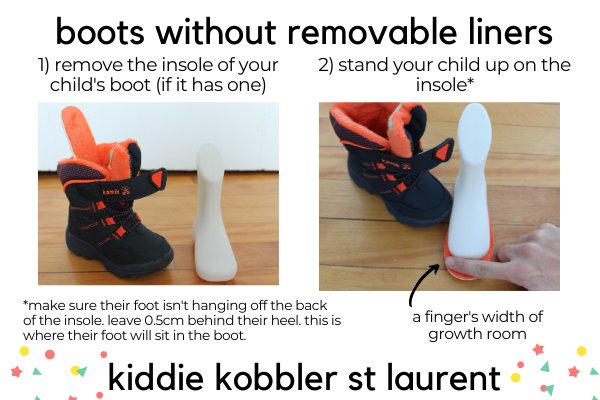 Boots without removable liners such as Bogs, Kuoma, Cougar, Geox, and Keen can seem a bit trickier to check the size. But don't worry! The insoles of the boots can tell you a lot. Most boots have removable insoles that can be popped out to see how much room your child has to grow. Sometimes the insoles can be tough to get out but if you try and grab onto the fuzz/felt you can usually get them out (they aren't glued down). 
Now you can stand your child up straight and tall. Make sure their heel isn't hanging off the back of the insole. Their foot should fit comfortably with about 0.5cm behind the heel to mimic where their foot would sit in the boot. Now you can see how much room your child has to grow. Again, a fingers-width or a bit longer is perfect for the whole season long. 
Step 4: Celebrate! You are ready for winter!
Now you can kick back with peace of mind knowing that your child's feet will be warm all winter long. You can bookmark this page for next year when you need to check if your child's boots will fit for another year, or when sorting through hand-me-downs to figure out if you can pass down winter boots. Contact us if you have any questions - we are always happy to help.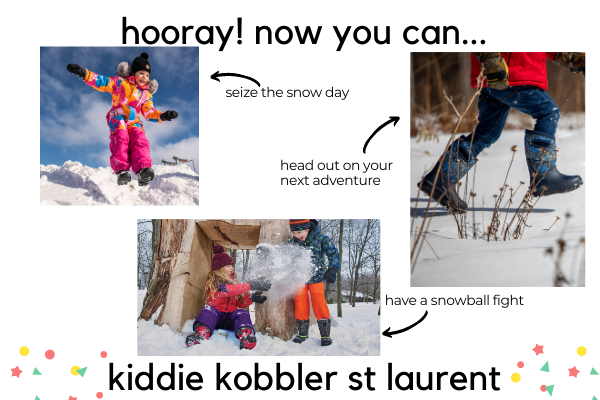 © 2020 Kiddie Kobbler St Laurent - All content on our blog cannot be copied or reproduced without our consent. Please contact us for more information.