Login
Log in if you have an account
Dont have an account? Register
Best Sandals for Wide Feet (2021) - How to Fit Kids' Shoes
04 Jun 2021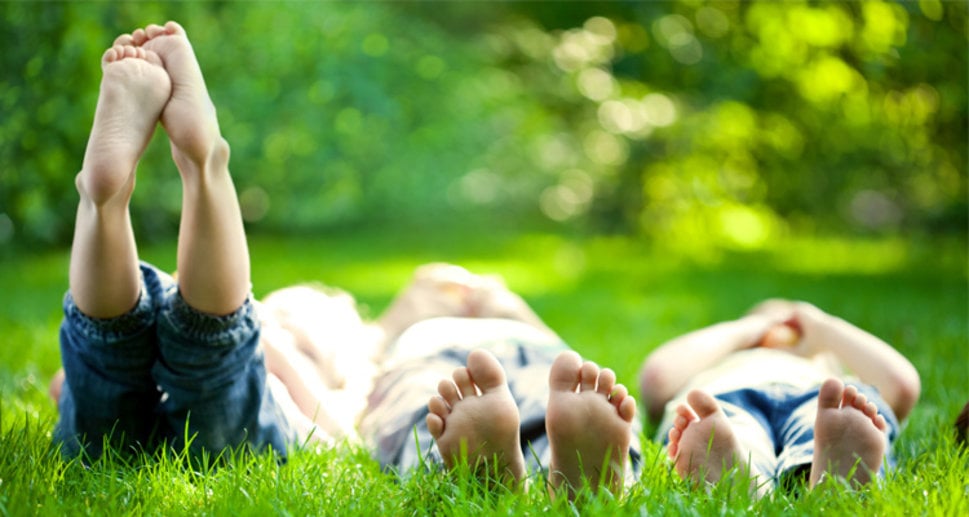 Attention all parents of children with wide feet... this post is for you!
Finding shoes that fit wide feet properly can be difficult, especially when you are looking for sandals that they will wear barefoot. A child with a wide foot can experience rubbing, blisters, and marks left on their feet from sandals that are too narrow or shallow for their feet. In our shoe store we very regularly see wide-foot kiddos who have outgrown the width of their shoe before the length, leading to them having to replace their shoes even quicker than they are growing. Keep reading to learn more about what makes a sandal wide, how to select wide-fitting footwear for your child, and what sandals are the best choices for wide feet this year.
If you are familiar with last years' top wide sandal list you can feel free to skip the introduction to wide shoes that we have added to this blog post.
Anatomy of Wide Footwear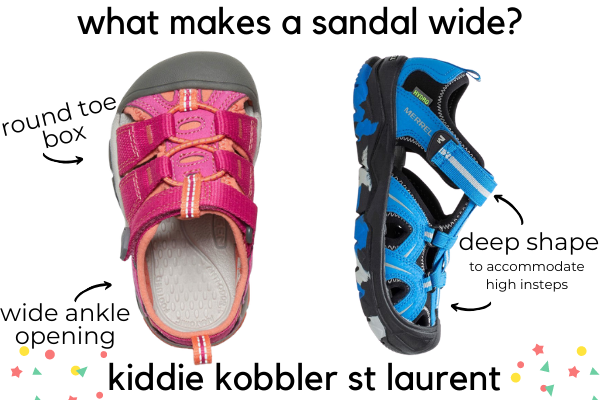 Not all shoes are created equally, especially when it comes to width. Finding a good wide shoe is not just about the shape of the shoe from left to right. Depth is a very important feature of wide shoes for children. For wide feet you should always look for shoes with round or square toe-boxes. For example, the Keen Newport sandal on the left. This will make sure your child does not outgrow the width of the shoe too early (and will prevent squished pinky toes). Wide ankle openings are important so that your child doesn't experience chaffing or rubbing from a sandal that is too narrow in the heel. Finally, from the side the sandal should look deep and spacious, like the Merrell Hydro on the right. A sandal that is too shallow will be impossible to put on, and quite uncomfortable for a wide-foot kiddo.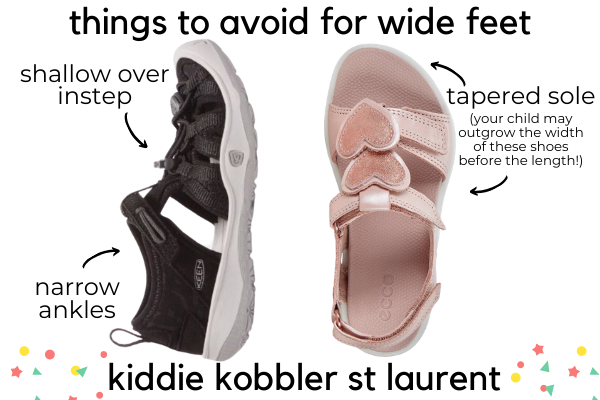 Since we went over what makes a sandal wide, it is important to point out what to avoid for wide feet, or what makes a sandal narrow. Narrow sandals will be quite shallow over the top of the foot with very small ankle openings. This can be sometimes hard to gauge from a single photo of a sandal, which is why we try to include as many product images as possible. A big no-no for wide feet is any footwear which has a tapered shape. This includes a lot of sleek-looking running shoes, dress shoes, and some sandals. Most wide feet have a more round or square shape to the forefront of the foot which will not be accommodated by a tapered shoe. This shape will guarantee your child will outgrow the width before the length of their sandal. 
Best Wide Sandals for Toddler Sizes
The Froddo Carte is a beautiful quality leather sandal that can be dressed up or dressed down and look great with any outfit! They're made with full-grain vegetable-tanned leather for optimal breathability (and softness)! These extra supportive sandals will keep your little one comfy all summer. Made in Europe.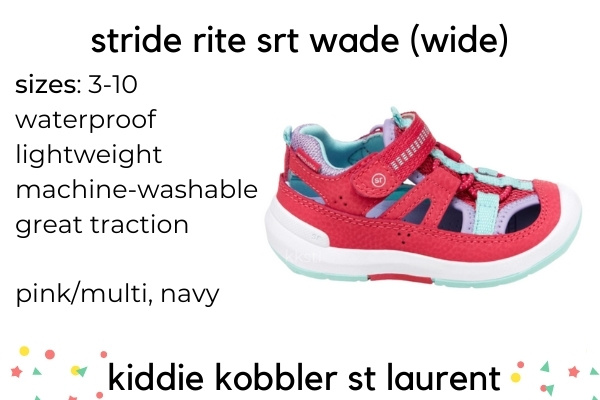 Out comes the sun, and so do these awesome action-packed, water-proof sandals! Stride Rite's SRtech Wade Sandals were made for fun times al fresco, with their lightweight breathable upper and protective outsole. These are machine-washable and oh so practical. The extra rubber at the heel provides a bit of extra ankle support for new walkers. These are also available in medium widths for toddlers who don't have wide feet.
Best Wide Sandals for Toddlers and Bigger Kids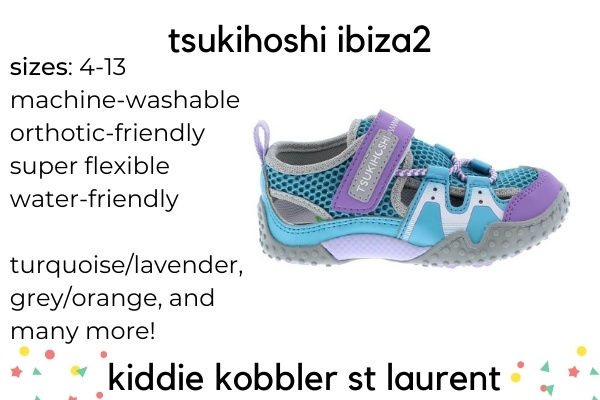 The Tsukihoshi Ibiza2 (and the rest of the Tsukihoshi brand) is potentially the most child-friendly sandal on the planet. These sandals fit wide, are easy to put on themselves, and are machine washable so they are ready to take on anything your summer has planned. This sandal is designed with barefoot movement in mind and is extremely flexible. Tsukihoshi sandals fit big so we suggest sticking with measurement size, or going up 0.5 sizes for room to grow. Comes in infant sizes as well.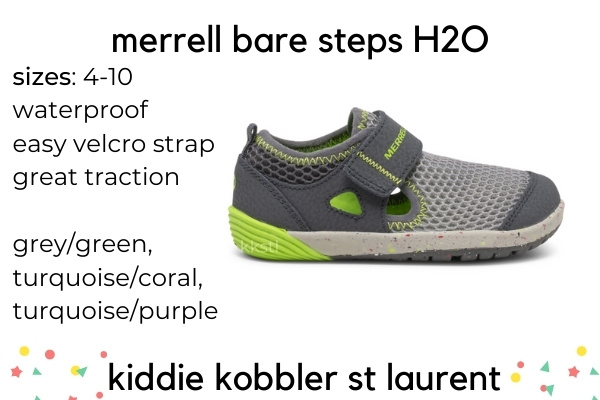 Merrell's Bare Steps® H2O is the superhero of water shoes — innovative design featuring an extra wide toe box, flexible, barefoot feel, alternative closure for easy on/off, superior durability and traction, AND eco-friendly. The Merrell Bare Steps H2O are the perfect option for a wide-foot toddler. They fit a tad long so go up 0.5 of a size from what your child measures for room to grow.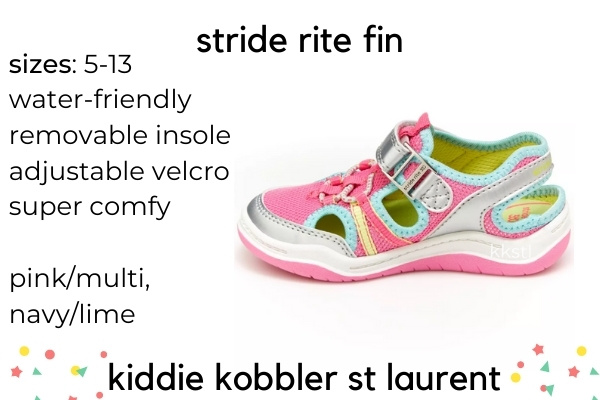 Another water-friendly option from Stride Rite! These sandals feature a removable insole for wider-fitting and adjustable velcro for high insteps. They also contain a memory foam footbed for optimal comfort for your little ones. The Stride Rite Fin will keep your mini-me ready to climb, run, and jump all summer long. Available in Pink/Multi and Navy/Lime.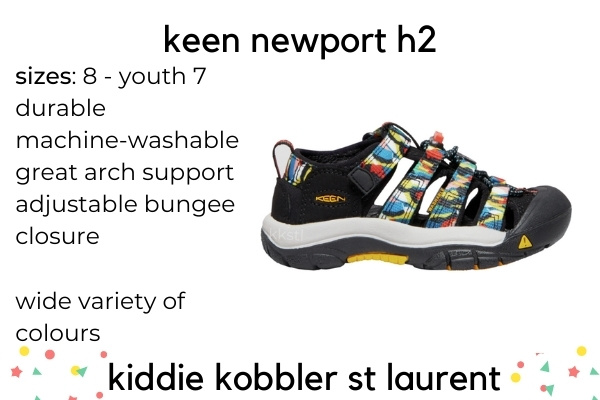 The super durable Keen Newport H2 is my personal favourite (I own two pairs!). This supportive sandal can take anything a kid can dish out. An adjustable hook-and-loop strap lets kids put them on themselves, and its quick-drying webbing is perfect in and out of the water. Machine-washable and made for playing hard and passing down.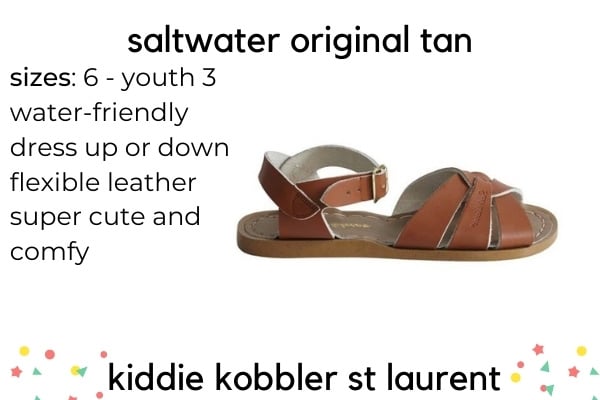 Water-friendly leather - splash pad shoes CAN be this cute! The Saltwater Original Tan can be dressed up or down and look fantastic with any outfit. The other Saltwater models fit quite narrow, but the Original model is built perfectly for wide feet. These guys fit long so stick to measurement size for room to grow.
Best Wide Sandals for Big Kids Only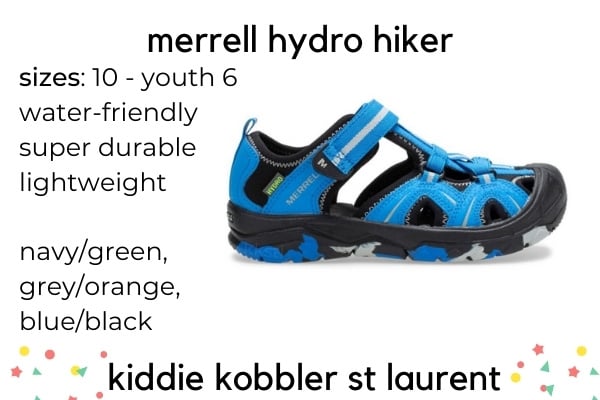 Has your child tried Keens before and found them too shallow over their instep? This is the sandal for you! The Merrell Hydro is one of the deepest models we carry and is loved by wide-foot families year after year. With all the comfort of the Hydro, the Merrell Hydro Hiker is the ultimate summer camp shoe! This closed-toe sandal can navigate any adventure, wet or dry, thanks to a durable construction for quick-dry and a flexible outsole with M Select® GRIP for traction. It's a must for your little camper!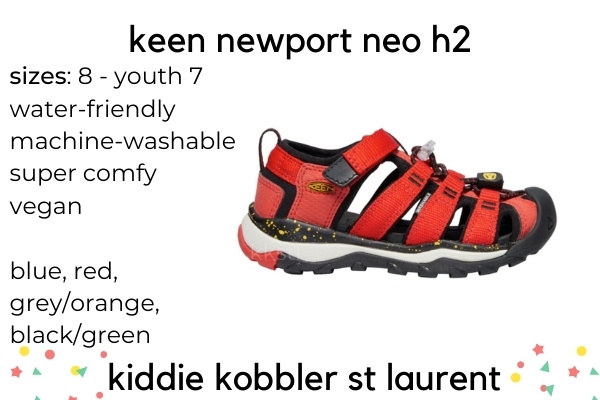 The Newport Neo H2 is a modern take on the classic Keen sandal. Still water-friendly, vegan, and machine-washable but with a sportier sole for extra comfort and speed. With a sole that can tackle all terrain, nothing can stop your kiddo in the Newport Neo H2. It feels active and athletic with lightweight durability that makes it a go-to sandal for all things rough and tumble.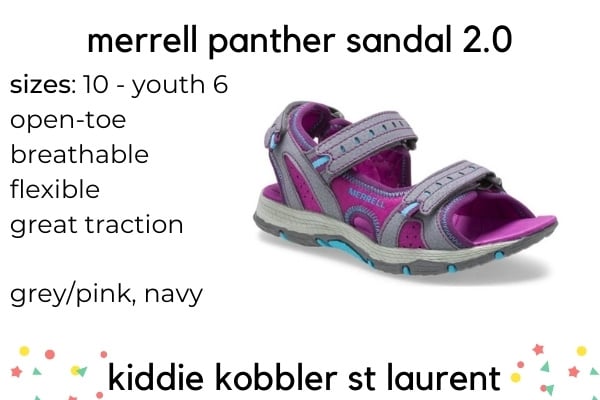 The updated Merrell Panther Sandal 2.0 matches easy-fit convenience with sneaker-level walking power to create the ultimate style for summer exploring. The Panther Sandal 2.0 is a great option for kids who find sandal straps too short and its open-toe design provides amazing breathability for sweaty feet. Bring on the heat!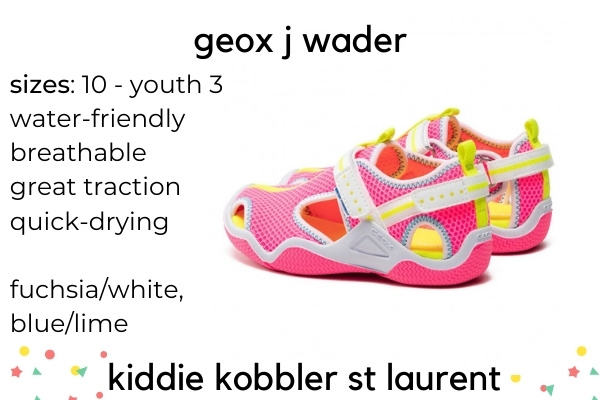 The Geox J Wader is built for adventure! In and out of water, this sandal provides comfort, traction and fantastic breathability. Made with quick-drying and antibacterial material, this sandal will keep your mini-me comfortable (and cute!) during all their summer adventures. The toe and heel guards provide great protection from knocks and impacts. The rip tape closure makes it easy to put on and adjust - and a great option for wide-foot kiddies!
As always, our fitting experts are always available to give you personalized sizing advice. If you would like help choosing shoes for your child with a wide foot send us an email with their sizing information and we are happy to point you in the right direction.

© 2021 Kiddie Kobbler St Laurent - All content on our blog cannot be copied or reproduced without our consent. Please contact us for more information.