Login
Log in if you have an account
Dont have an account? Register
How to measure and size your children for shoes from home! - Shoe shopping during COVID-19
21 May 2020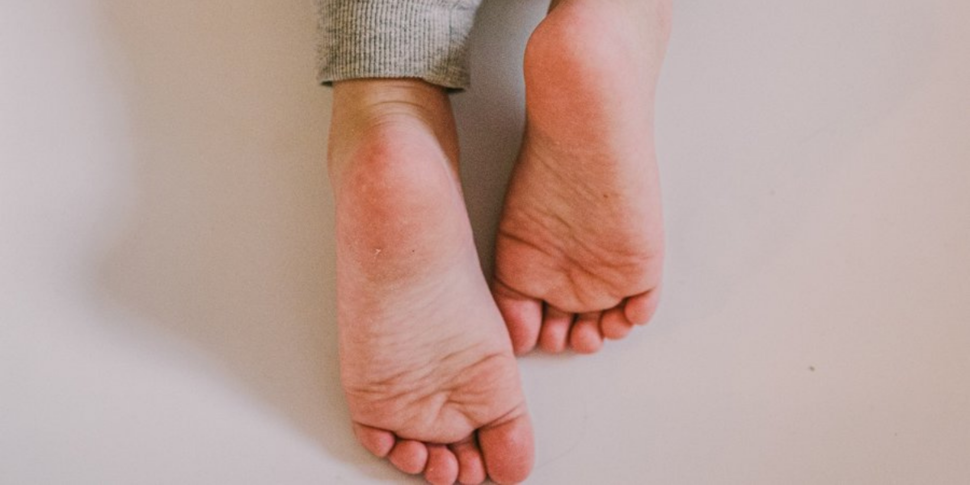 So your child needs new shoes... Now what?
Whether there are no shoe stores open in your area, or your family is isolating at home, your kid's feet just don't stop growing! But don't worry, we have a few tips for making the online shoe-shopping experience a lot less painful, and a lot more accurate. 
Before we get started, remember that we are always available to provide personalized fitting advice. If you'd like our help, or have any questions please send us an email. We are more than happy to help. 
Step 1: Getting the correct measurement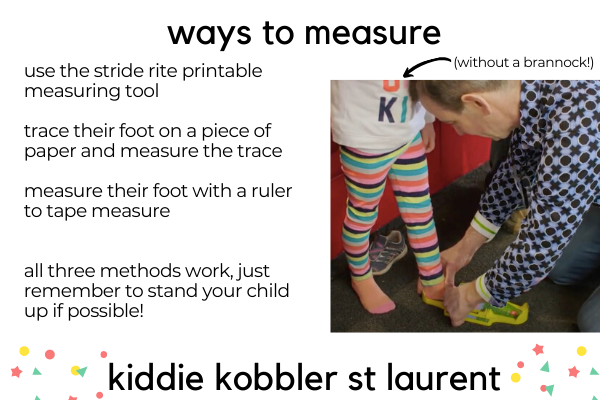 Unless you have a personal brannock device (the metal tool for measuring feet) at your house, getting the right measurement of your child's foot can seem daunting... But there are a few useful tools to help you out. One option is to print a digital sizing guide. The Stride Rite guide is a great place to start, as it allows you to measure your child's foot's length and width.
Alternatively, you can measure your child's foot with a ruler or tape measure. It is important that your child stands up straight and tall on a hard surface (preferably not carpet). Make sure your child isn't leaning against anything or curling their toes. A child's foot expands a lot when they stand up straight, so measuring your child's foot while they are seated can affect their measurement by 1/2 a size. 
An easy way to measure with a ruler is to trace your child's foot on a piece of paper first, and then measure the tracing from heel to longest toe. For ticklish children, or babies, measuring their foot against a ruler will also work! Once you know how long their foot is in centimetres check this sizing chart. We have scoured the web for the most accurate sizing chart, and found this one to be the best by far.  
Woohoo! Now you know what size their foot measures. Congratulations, the hard part is over!
*Important - This size is not necessarily the size shoes you should buy them. For room to grow we encourage you look for shoes in a 1/2 size or full size larger than what their foot measures. Keep reading for more info.
Step 2: Don't forget about width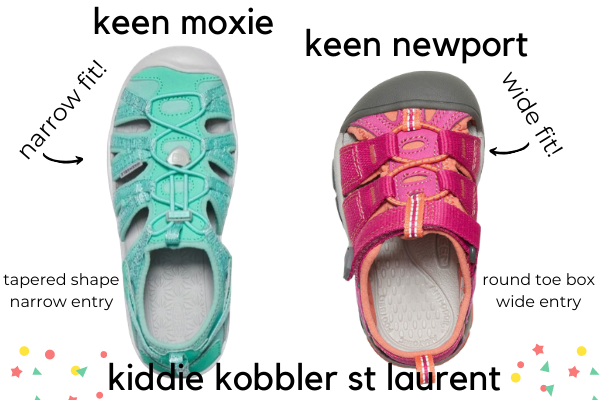 Though the length is an important part of fitting kid's shoes, we can't forget about the width. Children's feet vary in shape just like ours. In our specialty children's shoe store we see a lot of customers come in who's children have outgrown the width of their shoes before the length. 
In order for a shoe to fit properly, you want the shape of the shoe to reflect the shape of your child's foot. Does your child have a long, slender foot? A wide foot? High arches? Flip through the product photos for any shoe and try and look for the ones that look like your child's foot. We try to leave fit tips on each product that fits notably wide or narrow to help you out.
Many parents ask us what brand is good for ___ shaped feet. Unfortunately, all models fit differently! For narrow feet, brands like Asics, Under Armour, Teva, Bellamy, and Saltwater are good places to start. For wide feet, brands such as Bogs, Camper, Crocs, Hatley, Sorel, Tsukihoshi, and Viking tend to fit well. Other brands, such as Stride Rite, New Balance, Keen, Geox, and Kamik produce a variety of widths for different feet.  We have a dedicated blog post of the best narrow sandals of 2020 and best wide sandals of 2020 for more information!
If you aren't sure how to determine the shape of your child's foot, please send photos to us! We will give you a full explanation. 
Step 3: Choose your new kicks
Once you know the size and shape you are looking for, it is time to get shopping. On our site you can use our size filters to browse all of the models of shoes in your child's exact size. As a rule of thumb you should add 1/2 to 1 full size to your child's measurement size if you would like a full size to grow. For a more exact fit, feel free to stick with their measurement size. 
For example: if your child measures a size 9, according to the conversion chart, filter our site for sizes 9.5 or 10 and keep your eye out for shoes that match the shape of your child's foot. Remember to look for our bolded fit tips, and remember you can always ask us for help!
We have over 1,500 models of children's footwear to pick from so we pretty much guarantee that you will find something you and your child likes.
Step 4: Trying on your new shoes
The day is here - your new shoes have arrived and your child is excited to try them on! Now you get to check the fit of their new shoes. The number one mistake parents make at this point is comparing the sole of the shoe to their child's foot. This is inaccurate and leads to many children wearing shoes that are much too small for them!! 
The fit of a new shoe should be checked by feeling your child's toes while they stand up, or by comparing their foot to the insole.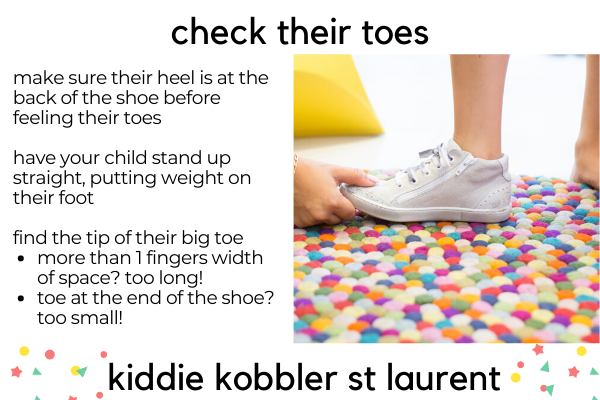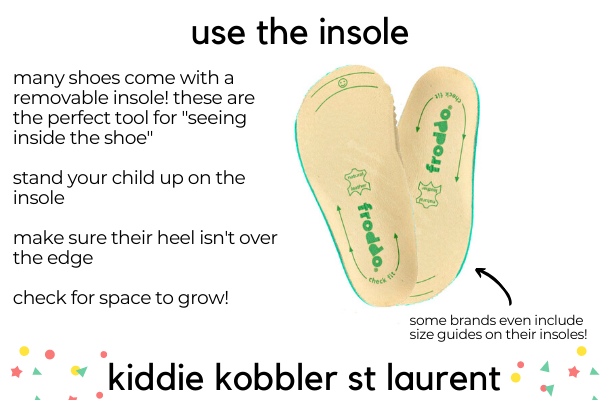 Step 4: Celebrate!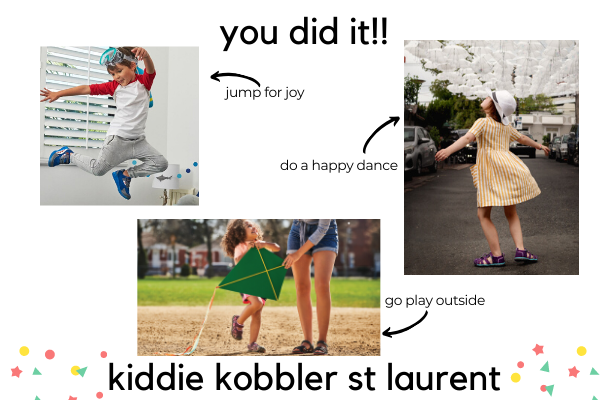 It's over! You did it! Shout hooray, do some happy dances! You should feel accomplished that your child's shoes fit properly and they will be comfortable and supported all day long. 
But.. what if they don't seem quite right? If the length is too small, but the rest of the shoe feels right, order a size up! If the length seems right but your child is complaining of slippage or tightness, the width may not be quite right. Give us a call or email us and we will help you figure out the best solution!
© 2020 Kiddie Kobbler St Laurent - All content on our blog cannot be copied or reproduced without our consent. Please contact us for more information.