Login
Log in if you have an account
Dont have an account? Register
Best Sandals for Wide Feet (2020) - How to Fit Kids' Shoes
03 Jun 2020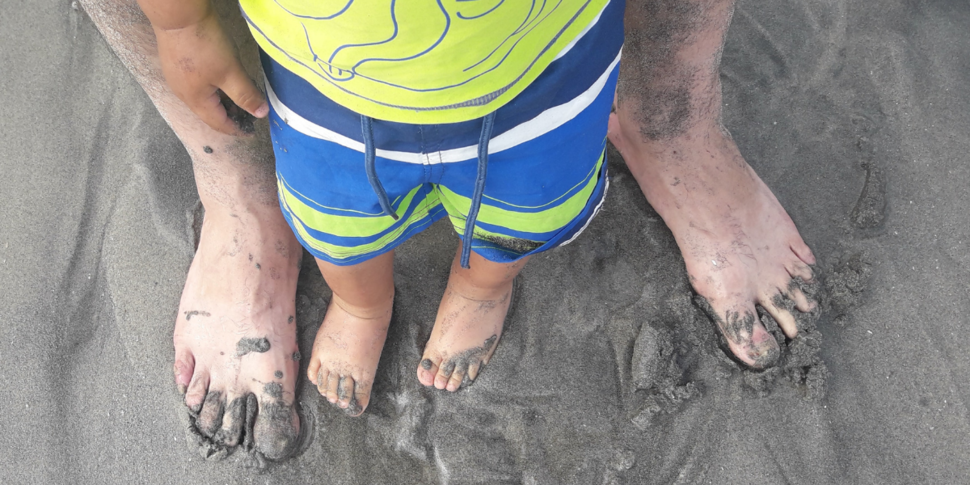 Attention all parents of children with wide feet... this post is for you!
Finding shoes that fit wide feet properly can be difficult, especially when you are looking for sandals that they will wear barefoot. A child with a wide foot can experience rubbing, blisters, and marks left on their feet from sandals that are too narrow or shallow for their feet. In our shoe store we very regularly see wide-foot kiddos who have outgrown the width of their shoe before the length, leading to them having to replace their shoes even quicker than they are growing. Keep reading to learn more about what makes a sandal wide, how to select wide-fitting footwear for your child, and what sandals are the best choices for wide feet this year. 
Anatomy of Wide Footwear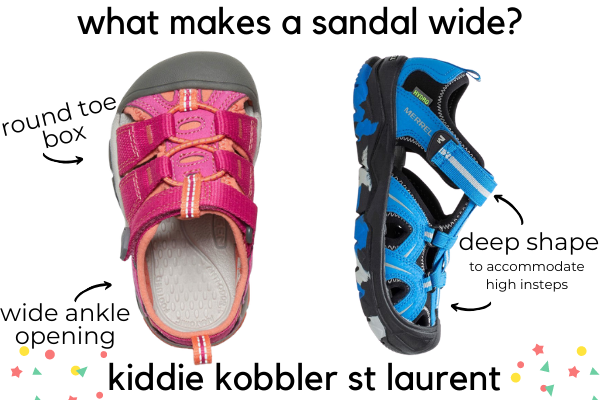 Not all shoes are created equally, especially when it comes to width. Finding a good wide shoe is not just about the shape of the shoe from left to right. Depth is a very important feature of wide shoes for children. For wide feet you should always look for shoes with round or square toe-boxes. For example, the Keen Newport sandal on the left. This will make sure your child does not outgrow the width of the shoe too early (and will prevent squished pinky toes). Wide ankle openings are important so that your child doesn't experience chaffing or rubbing from a sandal that is too narrow in the heel. Finally, from the side the sandal should look deep and spacious, like the Merrell Hydro on the right. A sandal that is too shallow will be impossible to put on, and quite uncomfortable for a wide-foot kiddo.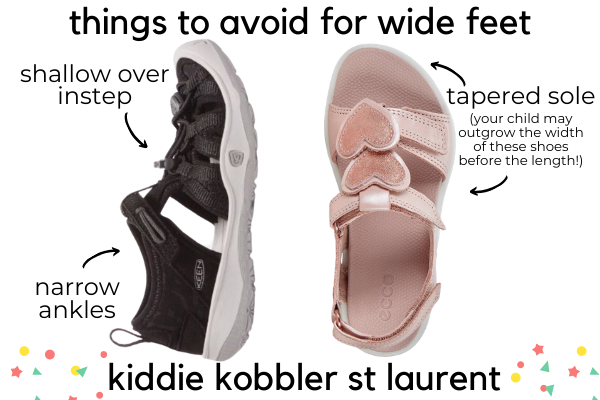 Since we went over what makes a sandal wide, it is important to point out what to avoid for wide feet, or what makes a sandal narrow. Narrow sandals will be quite shallow over the top of the foot with very small ankle openings. This can be sometimes hard to gauge from a single photo of a sandal, which is why we try to include as many product images as possible. A big no-no for wide feet is any footwear which has a tapered shape. This includes a lot of sleek-looking running shoes, dress shoes, and some sandals. Most wide feet have a more round or square shape to the forefront of the foot which will not be accommodated by a tapered shoe. This shape will guarantee your child will outgrow the width before the length of their sandal. 
Best Wide Sandals for Toddler Sizes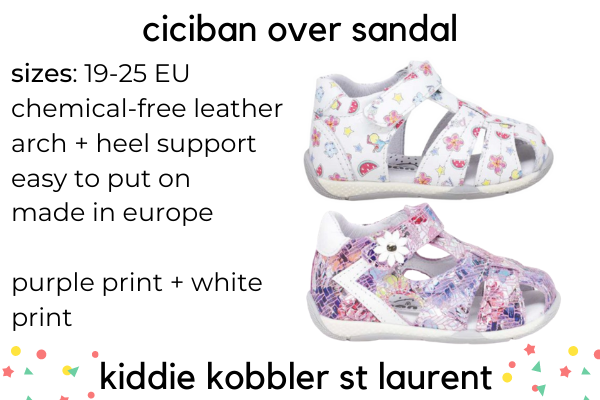 The Ciciban Over sandal is a great option for toddlers with wide feet. Along with Ciciban Rolly, and Ciciban White, these sandals provide the ultimate ankle support, arch support and breathability. Ciciban uses vegetable-tan leathers dyed with natural ingredients to create safe and breathable leather footwear with proper foot development in mind. The soft leather will stretch and form to your child's foot which is a great feature when your little has wide feet. These sandals have a deep entry which makes putting them on a breeze. They are available in a white print and a purple print so you can match them with any outfit.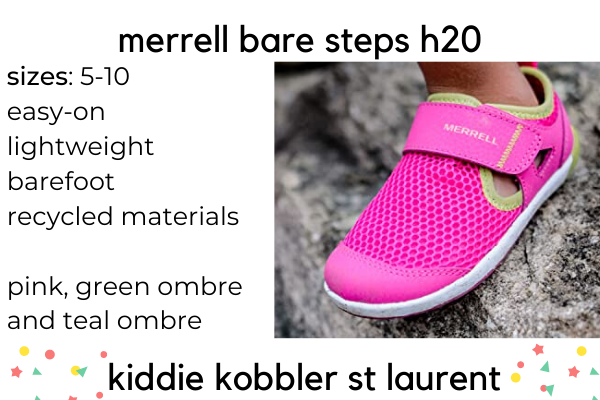 The Merrell Bare Step H2O sandal has been one of our bestsellers already this season. This sandal is soft, flexible, lightweight and accommodates a wide foot perfectly. The single velcro flap is easy for kids to do up themselves - so no more fighting to get their sandals on! The upper is extremely soft which means the sandal will stretch easily to fit a wide foot. This sandal does fit large so we suggest sticking with the size your child measures so that they aren't too big.  This sandal is available in pink, green/orange ombre and teal/coral ombre for a fun pop of colour with any summer outfits.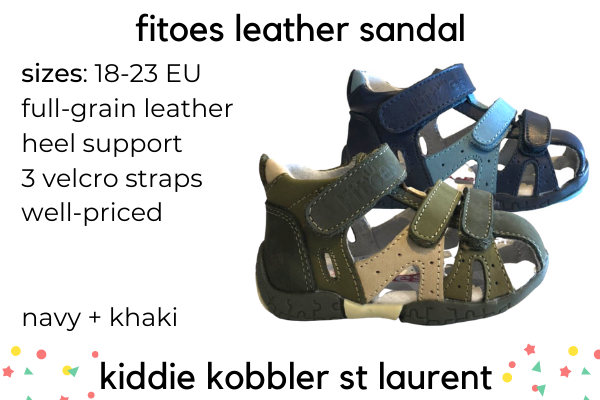 Do you have a little one with an extra-wide foot? Does their foot look a bit more like a potato than a foot? THIS is the leather sandal for you. The Fitoes Sandal is extremely deep and wide to accommodate children with XW or 4E width feet. All three velcro straps are functional and allow you to adjust the sandal to fit the exact shape of your child's foot. The sandal comes in two colours; blue/navy, and khaki/beige, and is priced extremely well for a full-leather sandal. Please note that these sandals also fit extremely long. Sticking with the size that your child measures is the best way to get a size to grow in these sandals (without them being too long)! 
Best Wide Sandals for Toddlers and Bigger Kids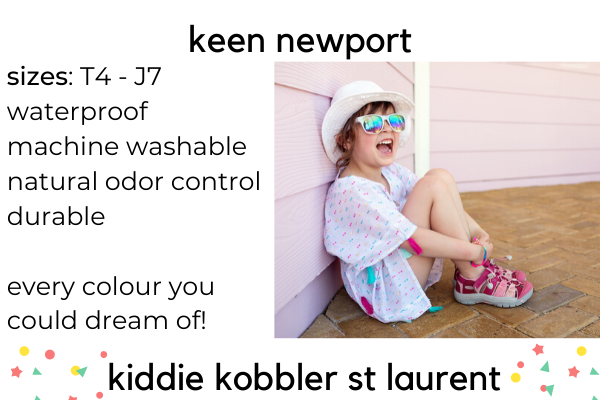 The Keen Newport collection is incredibly durable, waterproof, and machine-washable. What a perfect combination for active kids! The toddler version of this sandal (4-7)is one of the widest shoes in the store. The bigger kid sandals still deliver an adjustable, wide fit with a lot of support. These sandals have an elastic bungee cord to adjust the width down the length of the shoe. However, once adjusted, your child only has to open the velcro strap to put on and take off their sandals - easy peasy! These sandals come in every colour you could possibly imagine. Toddlers can choose between ice blue and pink. For bigger kids: blue/pink, purple, teal, black, grey/blue, pink/coral, black/lime, navy, green camo, blue camo, ice blue, rainbow, blue/lime, pink ombre, and our bestseller, rainbow tie-dye. 
We also carry the Keen Newport Neo H2. This model is just as wide, if not wider than the original Keen Newport. These sandals are just as incredible, but have a sportier look. We also carry shoes from the Keen Newport adult line for wide-foot Moms and Dads.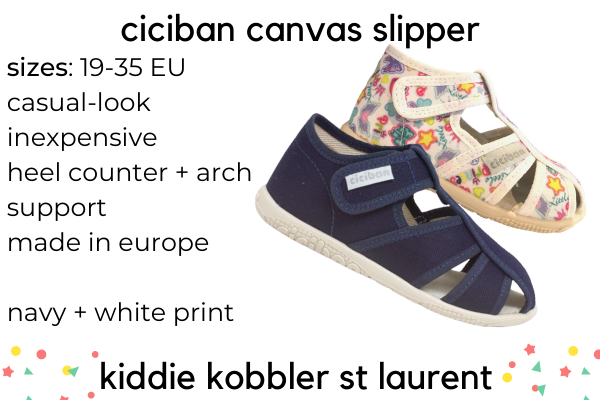 Next on the list is the Ciciban Canvas Sandals. These sandals bring all of the benefits of a walking-shoe sandal with a more affordable price tag. The closed provides optimal heel stability for your child, while the leather footbed with arch support provides support. These little sandals are handmade in Europe with the same quality as the rest of the Ciciban line. The sandal is secured with a single velcro strap and is very easy for children to put on themselves. Available in plain navy, or white with a print. These sandals also fit very large, so please stick with the size your child measures in order to receive a sandal with a full size to grow.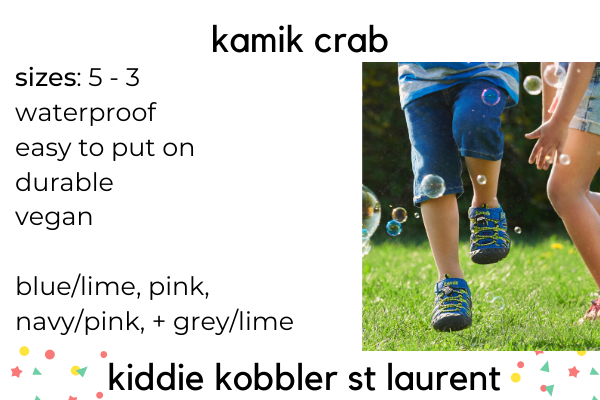 As a small, Canadian business we love supporting other Canadian businesses, so it is no surprise that a Kamik sandal had to make the list. The Kamik Crab is an incredible choice for a wide-foot toddler or big kids. The sandal is durable and waterproof, and is very deep and wide for easy entry. The Crab is quite flexible, despite being so durable, and has a squishy comfort sole. Like the Keens, the bungee elastic only has to be adjusted once before the sandal is ready to wear by just adjusting the velcro closure. It is available in pink, navy/pink (now sold-out), grey/lime (now sold-out), and blue/lime so your child will definitely find a colour that they like. These do fit a tad big, so if you are unsure about size we suggest going smaller rather than bigger.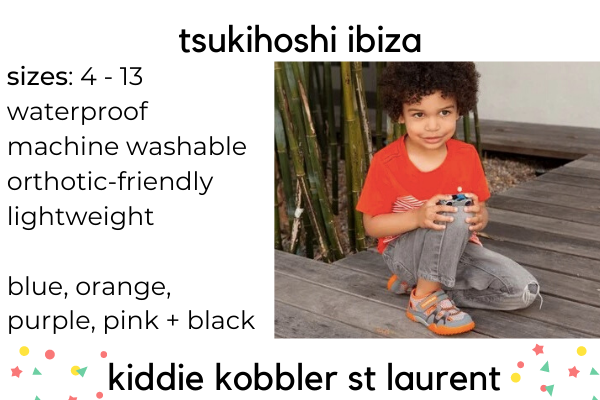 The Tsukihoshi Ibiza (and the rest of the Tsukihoshi brand) is potentially the most child-friendly sandal on the planet. These sandals fit wide, are easy to put on themselves, and are machine washable so they are ready to take on anything your child's summer has planned. This sandal is designed with barefoot movement in mind and is extremely flexible. The sandal comes in two models, infant, and child. Both of these styles fit quite long and we suggest going with the size your child measures currently, or a half-size bigger for room to grow. The sandal comes in five colours which are available for toddlers or big kids. Black/yellow toddler big kids, pink toddler big kids, turquoise/purple toddler big kids, orange/grey toddler big kids, and blue/lime toddler big kids. 
Best Wide Sandals for Big Kids Only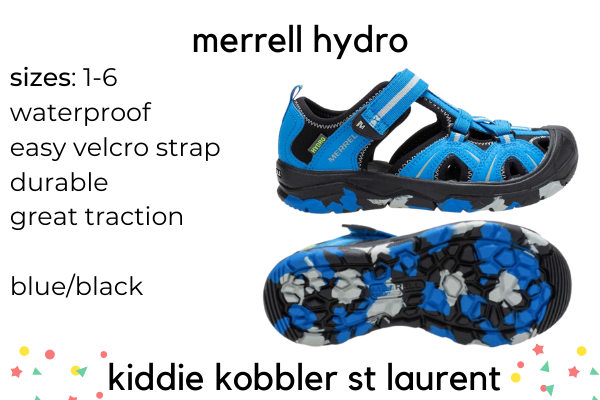 Has your child tried Keens before and found them too shallow over their instep? This is the sandal for you! The Merrell Hydro is one of the deepest models we carry and is loved by wide-foot families year after year. Your child won't have to worry about an elastic toggle because this sandal only has a velcro closure. This sandal is tough and cool and we promise it will be one of the most comfortable sandals your wide-foot kiddos has ever had. This season we have this incredible blue/black camo colour. If there is another colour you are interested in, we are happy to check stock with Merrell to special order them in for you! Please note, the toddler version of this sandal actually fits extremely narrow. So despite their names, they are completely different!
As always, our fitting experts are always available to give you personalized sizing advice. If you would like help choosing shoes for your child with a wide foot send us an email with their sizing information and we are happy to point you in the right direction.
© 2020 Kiddie Kobbler St Laurent - All content on our blog cannot be copied or reproduced without our consent. Please contact us for more information.