Login
Log in if you have an account
Dont have an account? Register
Rain Boot Fit Guide (2021) - The Right Fit for Every Kid
27 Feb 2021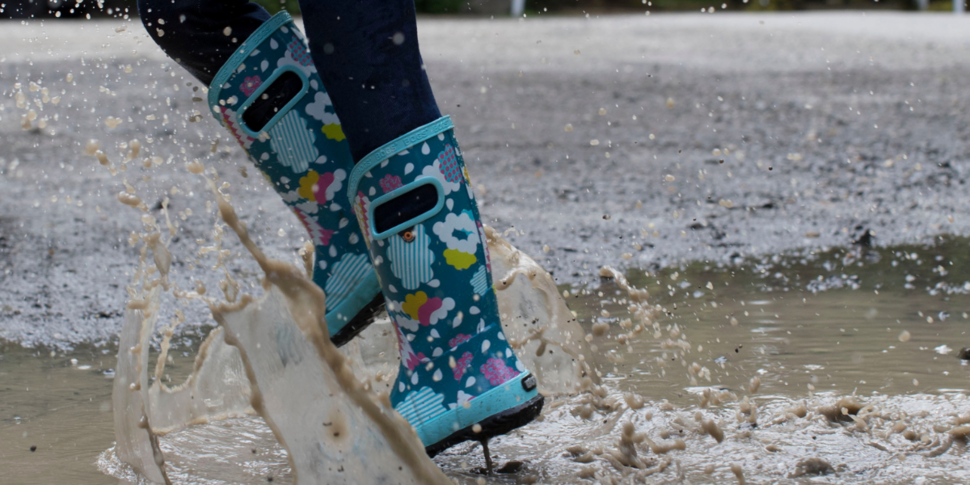 Puddles beware! Rain boot season is upon us. 
This year more than any other I am SO happy to report that it is almost spring. Bring on the allergies, mud, muck and rain - I am done with snow and slush. Rain boots are my favourite piece of footwear in the store. They come in amazing colours and I believe that no-one is too old to have fun puddle jumping. This guide will walk you through how each of our best-selling rain boots fit and suggest options for narrow feet, wide feet and everything in-between.
How to Size Your Child for Rain Boots
Sizing for rain boots is pretty simple. They don't come in half-sizes so generally you round up from what your child is measuring to give them room to grow. You can do this by printing a foot measuring device such as this one by Stride Rite. Or by measuring their foot in cm and comparing it to our sizing chart here. It is important to note that you always want to buy something bigger than the size of their foot for room to grow. If your child measures a size 12 and you buy size 12 rain boots their foot will fill the boot from back to front.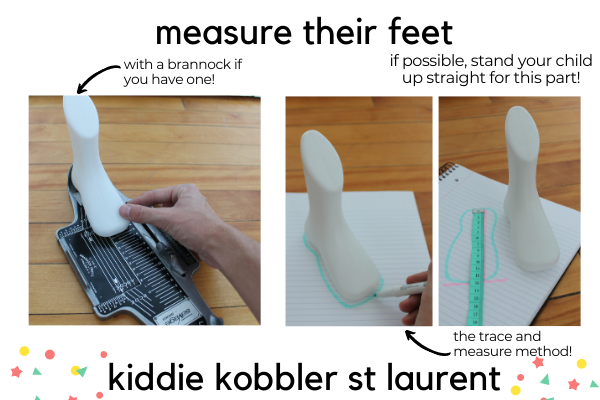 Unfortunately the correct length doesn't always guarantee the perfect fit. A rain boot that is the right length but way too wide will fall off when your child is walking. A too-narrow boot will hurt your child's foot and compress their foot. Keep reading for more information on getting the right fit for your child's foot. If your child has a medium-width foot most of the models we carry should fit for your child. If your child prefers a snugger fit for their footwear, shop the narrow models. If your child prefers their shoes to be a bit looser, or you intend to put wool socks inside for colder days - take a look at the wider models.
Best Rain Boots for Kids with Narrow Feet 
The only thing worse than rain boots that fly off when you're kicking in puddles is having to chase down your baby's rain boots that fell off somewhere along the way while you were carrying or wearing them. A well-fitting rain boots should give you a little "pop" feeling as they slide on. This means they are secure on your child's foot. It is possible to have room to grow and a boot that doesn't come off (as long as it is narrow enough) - we promise.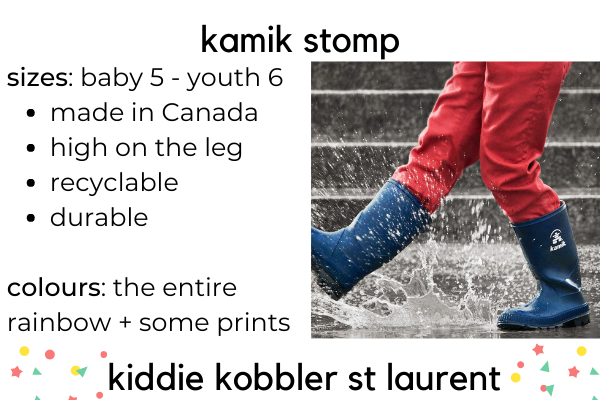 The Kamik Stomp rain boots is the classic, go-to narrow fitting boot. These fireman rain boots for kids are lightweight, narrow, and super durable. But best of all? They are made in Quebec. In our opinion, this model is a no-brainer for your child with narrow feet. They are tall enough on the leg to take on serious puddles, but not so tall that they will hit their knees. Plus, when your child(ren) outgrows them you can recycle them! We currently carry the Kamik Stomp in: Grey/Pink, Space Print, Yellow, Red, Purple, Pink, Black, Navy, and Grey/Blue.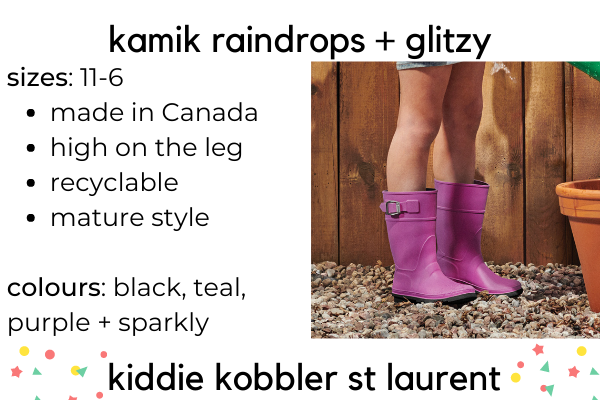 If you are looking for a narrow boot for your little fashion icon look no further. The Kamik Raindrops and Kamik Glitzy are stylish and very shallow - perfect for narrow feet. Just like the Kamik Stomps these rain boots are made in Canada and are recyclable. The difference between the Raindrops and Glitzy? Sparkles! The Kamik Raindrops are available in Purple, Teal/Pink, and Black. The Kamik Glitzy is available in Grey/Pink and Purple/Blue.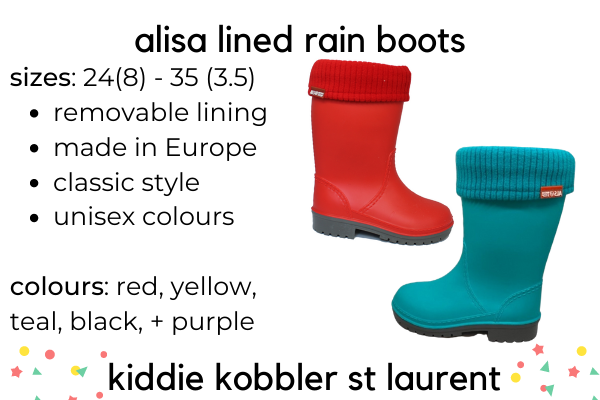 The Alisa line rain boots are a great option for longevity and our unpredictable Canadian weather. I always like to say that these boots "grow" with your child since the boot fits a full size bigger without its removable liner. That means that if you buy them in the spring to wear with the liner they should fit in the fall when you remove the liner. These boots fit on the narrow side (especially with the liner). They are made in Europe and are the perfect mid-season boot. Available in Red, Yellow, Mint, and Purple.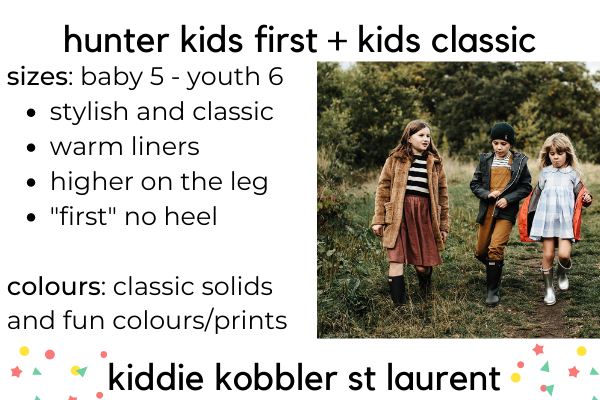 The Hunter boots aren't extremely narrow. However, like the Alisa boots, the removable liner (purchased separately) can help snug the boots up around a narrower foot. Otherwise, the boots on their own fit "medium". Meaning a narrow-medium or medium-wide foot should have no problem sporting these classic wellies. The Hunter First toddler boot (size 5-13) is available in Pink, Shiny Pink, Silver Metallic, Coral, Black, and Yellow. The big kids Hunter Original Kids (size 1-5) is available in Black, Metallic, Shiny Pink, and Metallic Blue.
Best Rain Boots for Kids with Wide Feet
I have wide feet. Okay... I have VERY wide feet. I remember spending a field trip to a maple farm shifting my weight from side to side so I could pull one of my feet out of my rain boot to relieve the painful pressure on either sides of my toes. Since rain boots are made of rubber they will not break in, and they do not stretch. This means that if the boot isn't wide enough your child's feet will be compressed from the sides. It wasn't until I started working at the store that I got my first pair of rain boots that were wide enough and I was over the moon. The rain boots below don't have the classic tapered boot look and instead have rounded toe-boxes to accommodate square feet and deeper entries for high insteps.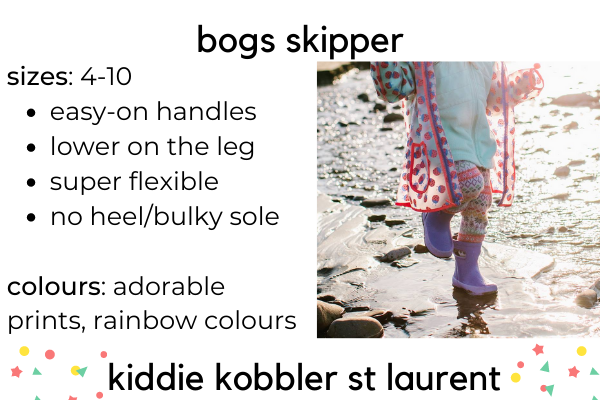 First on the list for toddlers is the Bogs Skipper rain boot. All of the Bogs rain boots are made of a wonderfully thin and flexible-feeling rubber. This is what amazed me the first time I put them on. They actually have a little bit of give to them which makes wide feet feel comfy. The Skippers are also low on the leg which is helpful for toddlers with thicker calves and ankles. The handles make them easy to slide on, while the flat sole is very easy for babies to walk in. Available in Pink Mermaid, Purple Pegasus, Navy Robots, and Black Astronauts.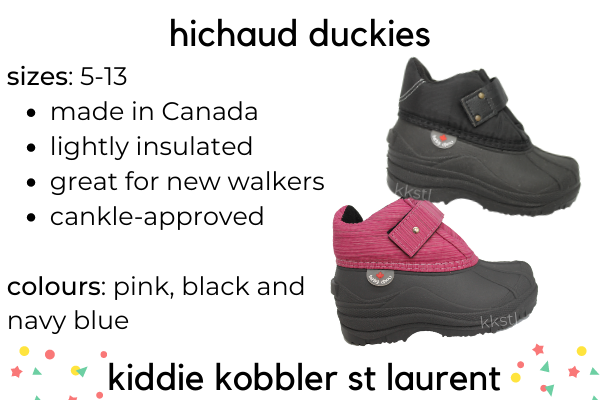 These aren't exactly rain boots but they are a great option for your wide footed little ones. The Hichaud duckies are waterproof and lightly insulated. Perfect for between seasons. They are also "cankle-approved" because they open up very wide and accommodate chunky legs better than anything else. Plus, they are made in Canada. You are likely familiar with Hichaud's incredible winter boots... these are just as great. Available in Black, Navy Blue, and Pink.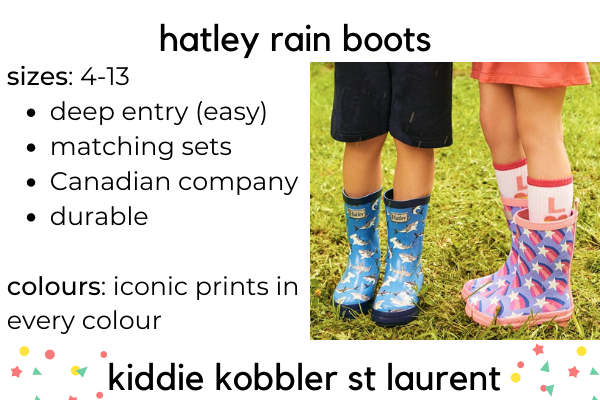 Hatley makes fantastic wide rain boots. In fact, they are probably the deepest rain boots in the store. They are perfect for wide toddler feet and it doesn't hurt that they are absolutely adorable. Hatley is a Canadian company from Quebec who specialized in matching rain gear for kids of all ages. They also have removable liners you can purchase (Navy or Magenta) if you'd like to snug up the fit for your child who isn't quite as wide. Available in: Navy/Yellow, Pink Pegasus, Purple Shooting Stars, Blue Sharks, Blue Dinos, and Pink Horsies.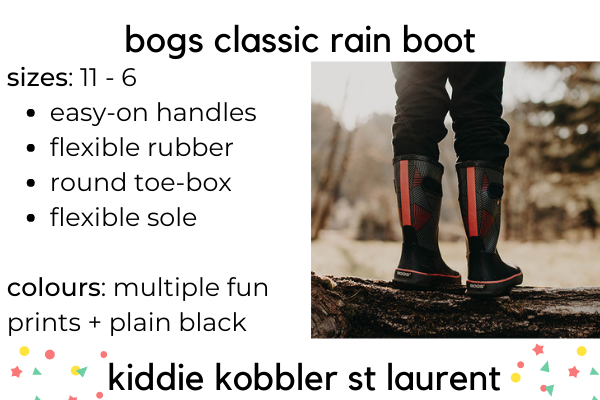 The Bogs rain boots are the big-kid version of the Skipper boot from above. They have easy-on handles and are made of extremely flexible rubber. They are super comfy, super cute, and fit a medium to wide foot really nicely. They have a rounded toe and a thin sole making them easy to run, climb, jump and explore in. These sell out fast so we suggest scooping up your favourite pattern ASAP. Available in: Periwinkle Marble, Coral Marble, Grey Floral, Black/Blue/Green Microcamo, Red/Black Geometric, and Black.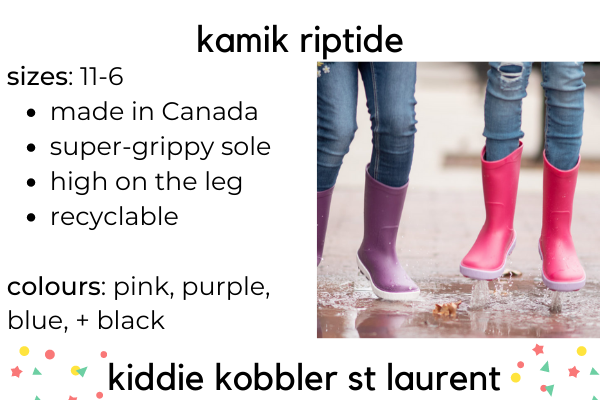 Finally, we have the Kamik Riptide. This is a last, but definitely not least situation. The Kamik Riptides easily have the best grip and outsole of any rain boot we have ever carried. They are made in Canada, are fully recyclable and very durable. These boots are the perfect option for a child who wants a simple rubber boot but doesn't have the slender, tapered foot needed for the Kamik Stomp. The Riptide boots are currently available in: Purple, Pink, and Black. 
Go Ahead - Make a Splash
We hope that this guide simplified your rain boot search this spring season. We are known for our fitting expertise and are proud to have this platform to share our fit tips with you. Whether you are getting fit for rain boots with us in store this season, virtually, through curbside pickup, or by Canada-wide shipping we appreciate your support and are always available to answer questions or to provide personalized sizing advice.
If you have any more questions or would like a virtual fitting please contact us via email, Facebook messenger, or Instagram messenger. 
© 2021 Kiddie Kobbler St Laurent - All content on our blog cannot be copied or reproduced without our consent. Please contact us for more information.